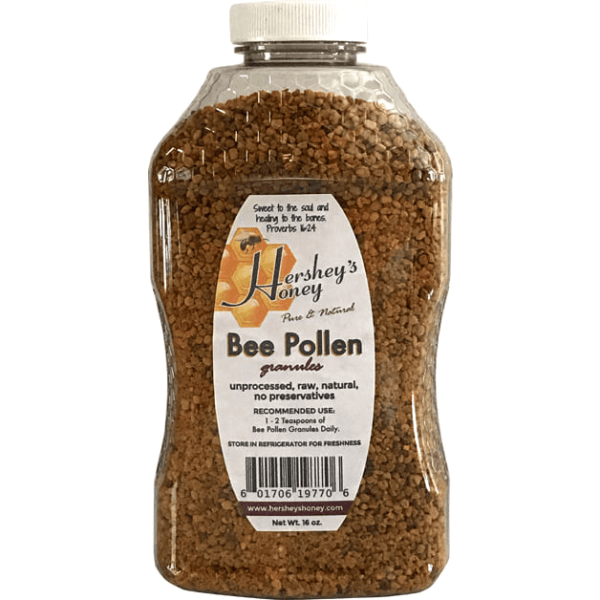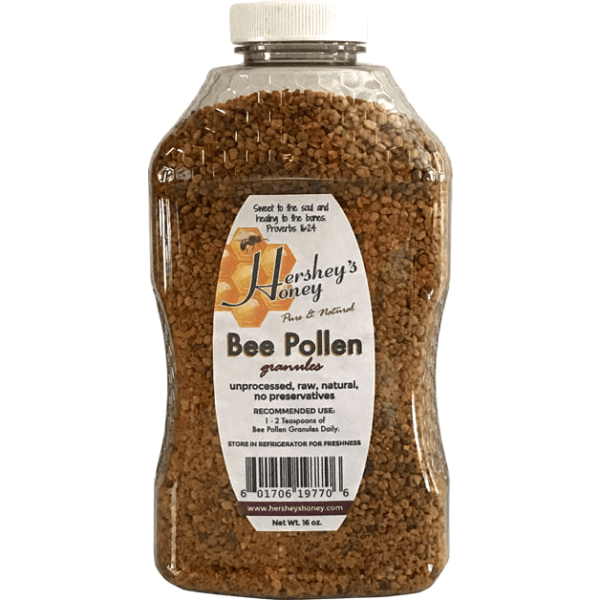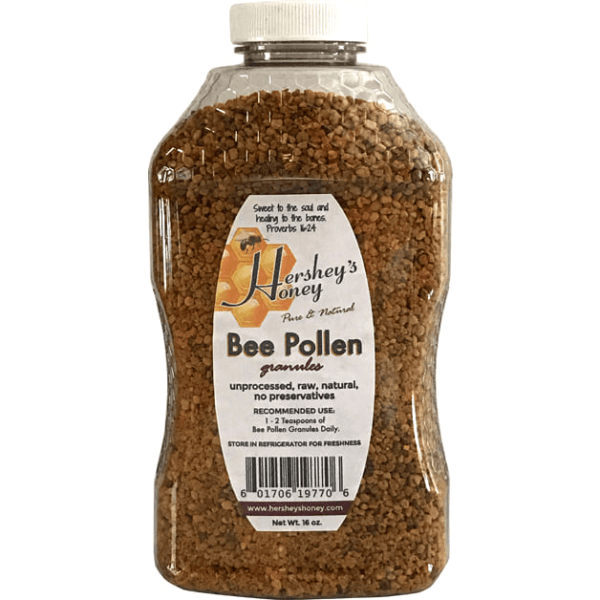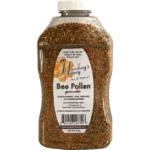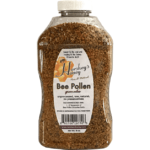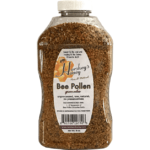 Pure Bee Pollen Granules 16oz
$28.99
Our 16 oz. pure Bee Pollen granules are a complete superfood that offers a wide array of health benefits. Bee pollen is rich in vitamins, minerals, proteins, lipids and fatty acids, and enzymes and is a great source of protein. Many find taking pure bee pollen granules can help with anti-stress, anti-aging, increased energy, bone health, brain and mood health, cancer (post-treatment), circulatory and heart health, digestion and intestinal health, immune health, hormonal health, hair, skin, and nails, and prostate health. Can take up to 2 teaspoons per day for best results, our granules vary in taste but can resemble a sweet nutty flavor.
Description
Additional information
Description
Pure Bee Pollen Granules 16oz
NATURAL WEIGHT CONTROL – 1 oz. of honeybee pollen 10-15 minutes before eating stabilizes faulty metabolism, often involved in unhealthy weight gain or loss. Rich in lecithin, pollen causes a speedy Increase In calorie burning. Active effects benefit digestion.
COMPLETE NUTRITION – Honey Bee pollen gives you all essential nutrients, all vitamins, all minerals, enzymes and trace elements needed for glowing good health and vitality.
SKIN RESTORATIVE POWER
Exhaustive studies abroad show honey bee pollen can .improve unhealthy and or aging skin when taken internally. Emulates acne and clears unattractive age spots, plumps wrinkles. The clear skin of youth and health comes from within.
INCREASES RED BLOOD CELLS –Studies show that honey bee pollen increases vital oxygen-carrying red blood cells up to 25%. You feel better when your circulation is better.
INCREASES RECOVERY POWER -Two-year research program at Pratt Institute in New York shows that pollen improves the crucial recovery power of athletes after the stressed performance. Just think what it can do for you daily.
THE POWER OF STEROIDS
Honey Bee pollen-power out powers harmful steroids without chemical side, effects. "Honey Bee pollen is the greatest bodybuilder on earth, contributing not one ounce to obesity or excess fat and should be the cornerstone of every weight-loss diet.
INCREASED SEXUAL STAMINA
Some Magazine reports pollen contains natural hormonal substances which stimulate and nourish the reproductive systems of both men and women.
What does it taste like?
Bee pollen looks like tiny yellow, tan, orange, and brown balls. It varies in taste depending on the plant~ from which it comes. Some bee pollen has a slightly .sweet and nut-like flavor. Some is bitter. It can be eaten alone or mixed with any cold food or thick cold beverage. (I mix mine with honey)
Recommended Use:
Very few people are allergic to bee pollen. Therefore, it is suggested that people start taking small amounts of bee pollen and gradually increase the amount until they are taking 2 teaspoonfuls daily.
2 A teaspoonful of Bee Pollen Granules Daily.
(I mix mine with honey)
Store in refrigerator for freshness.
Size: 16oz